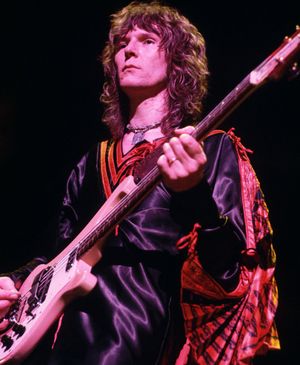 Anyone who knows me knows that one bass player in particular had more to do with my development than anyone else and that is Chris Squire. Sad that a few weeks ago he was diagnosed with Leukemia and now he's passed away. I started off my musical life playing a recorder, like many other children at the time. Then I had a quick soirée into drumming, trombone and all along always noodling on a guitar. My musical desire and making music was always there. Then listening to the radio while I was young I heard the song Roundabout. I wanted to make that sound happen. It was Chris Squire's bass part. The rest of my playing life revolved around making that a reality.
The first time I ever played a bass was accidental when I showed up at a typical teenage party with a band. The bass player got himself grounded and I sat in having never played the instrument. It stuck to me like glue. It would be another 2 years before I was able to get a bass of my own but the one constant was always wanting to learn roundabout. Along the way I also listened to other bass parts of his and I knew that was whom I wanted to emulate. I even bought a Rickenbacker bass from a guy that was finished the same color as Chris Squire's.
I learned a lot of Led Zeppelin, Black Sabbath and Rush on my way to roundabout and eventually it happened. I not only learned Roundabout but also went on to learn every song on the first 7 studio albums that had bass on them. Needless to say Chris Squire was and continues to be a massive influence on me.
I do not believe in an after life. I believe a person lives on with things they've left behind and in the memories of others. I've seen him live 18 times over the years and relished every performance. It's sad that I'll never be able to see him play again but my memories are strong and his style is such a part of mine that my adulation over his playing is always in my own.
He'll be missed, celebrated and never forgotten by this bass player